Unlock the Ultimate Advantage for Your Vacation Rental
Attract More Renters and Bookings with a Stunning 3D Floor Plan - Get Ahead of the Competition Today and Stand Out From the Crowd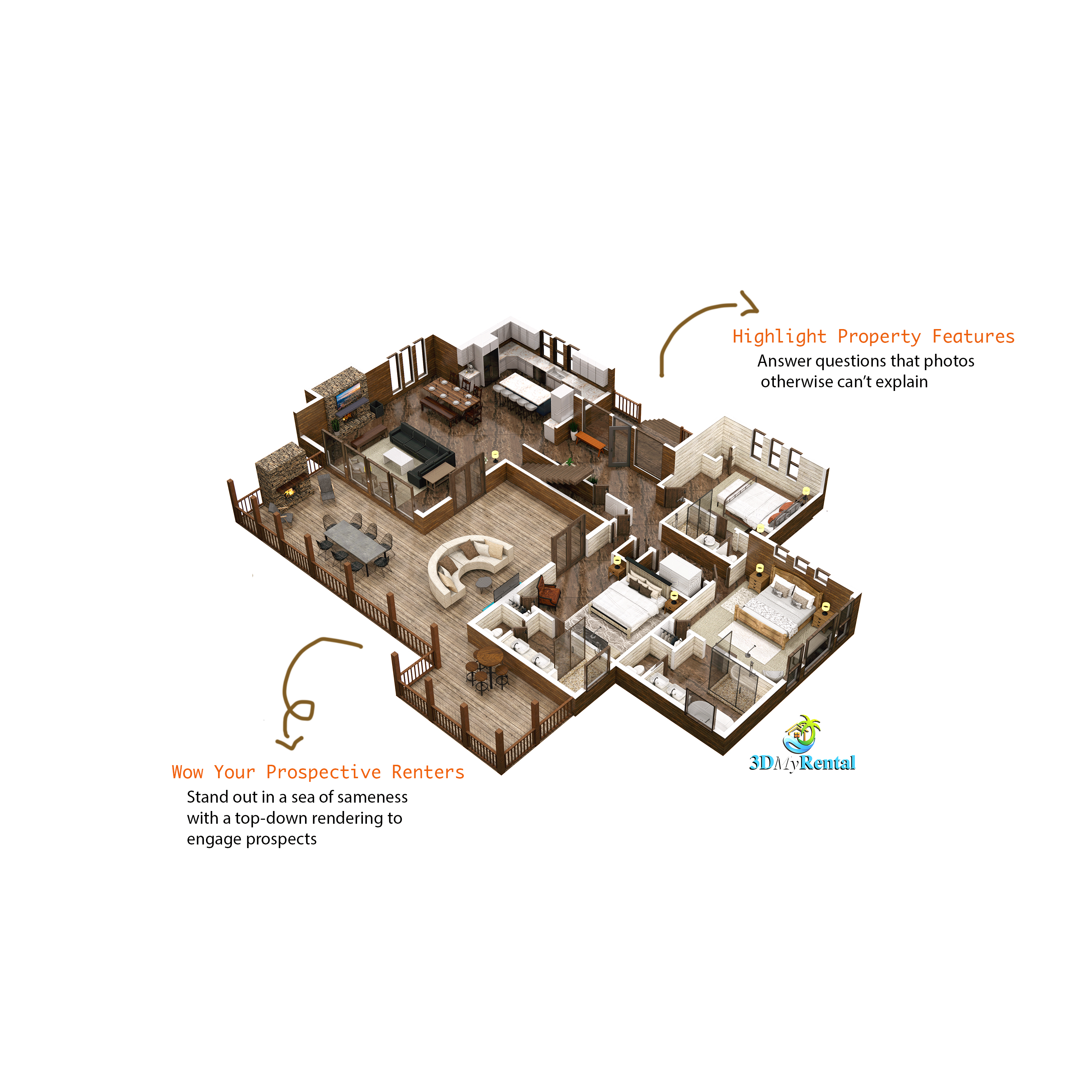 Transform Your Property into a Booking Magnet with Our 3D Renderings
Attract more travelers and convert their "just looking" into "booking now" with the power of 3D renderings. In the fast-paced world of online travel, confusion can quickly lead to lost opportunities. A staggering 73% of travelers are unsure about properties based on their photos alone, and half of them move on without even asking a question. Our 3D renderings eliminate this uncertainty, visually answering questions and giving you the competitive edge you need to stand out from the crowd.
Get Your Own Stunning 3D Rendering Today
We make it easy for you to showcase your property in its best light. Simply provide us with a link to your listing or a 2D property sketch, and we'll do the rest! If you don't have a sketch, no worries - we can create one for you effortlessly.
Before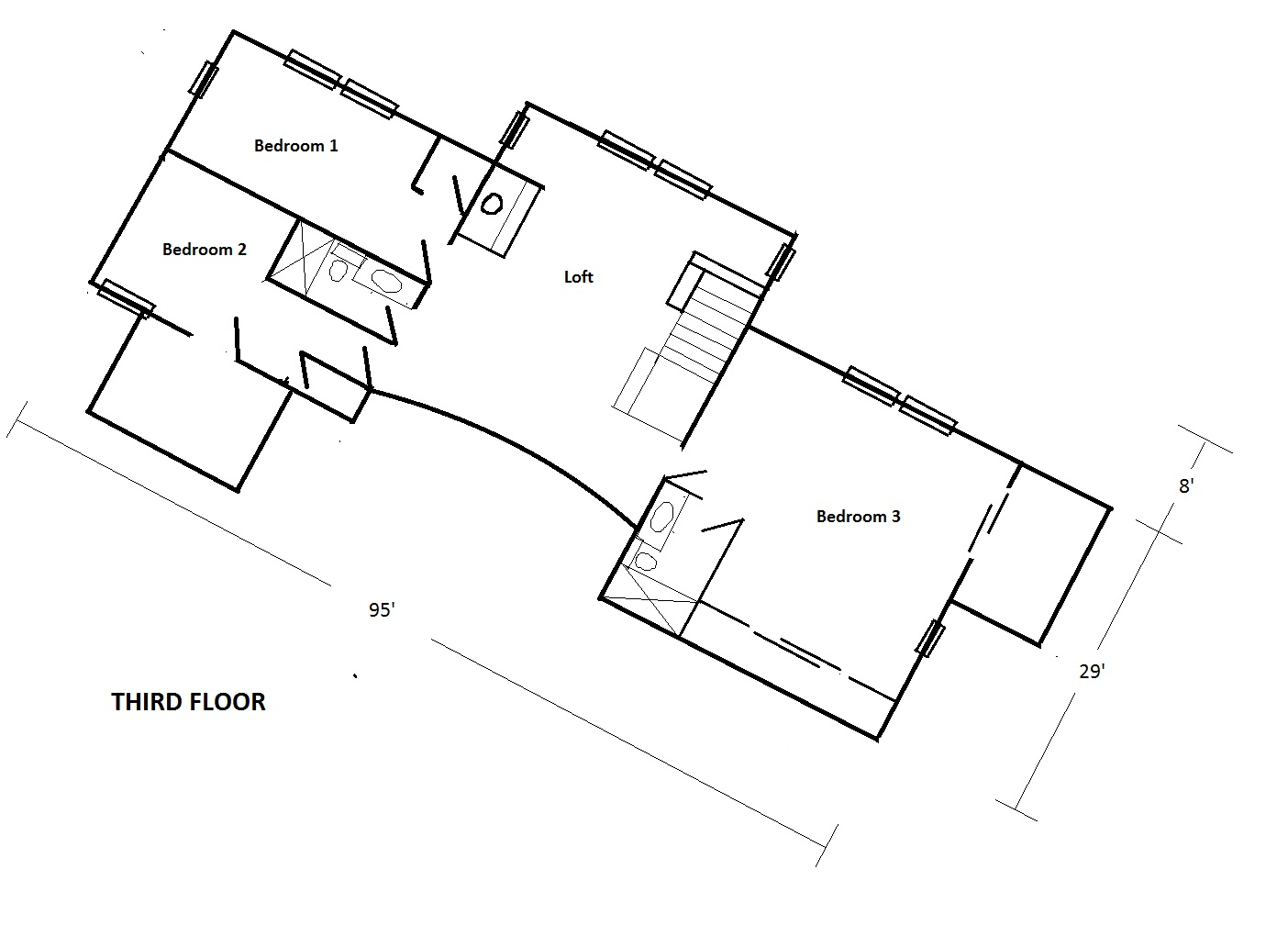 After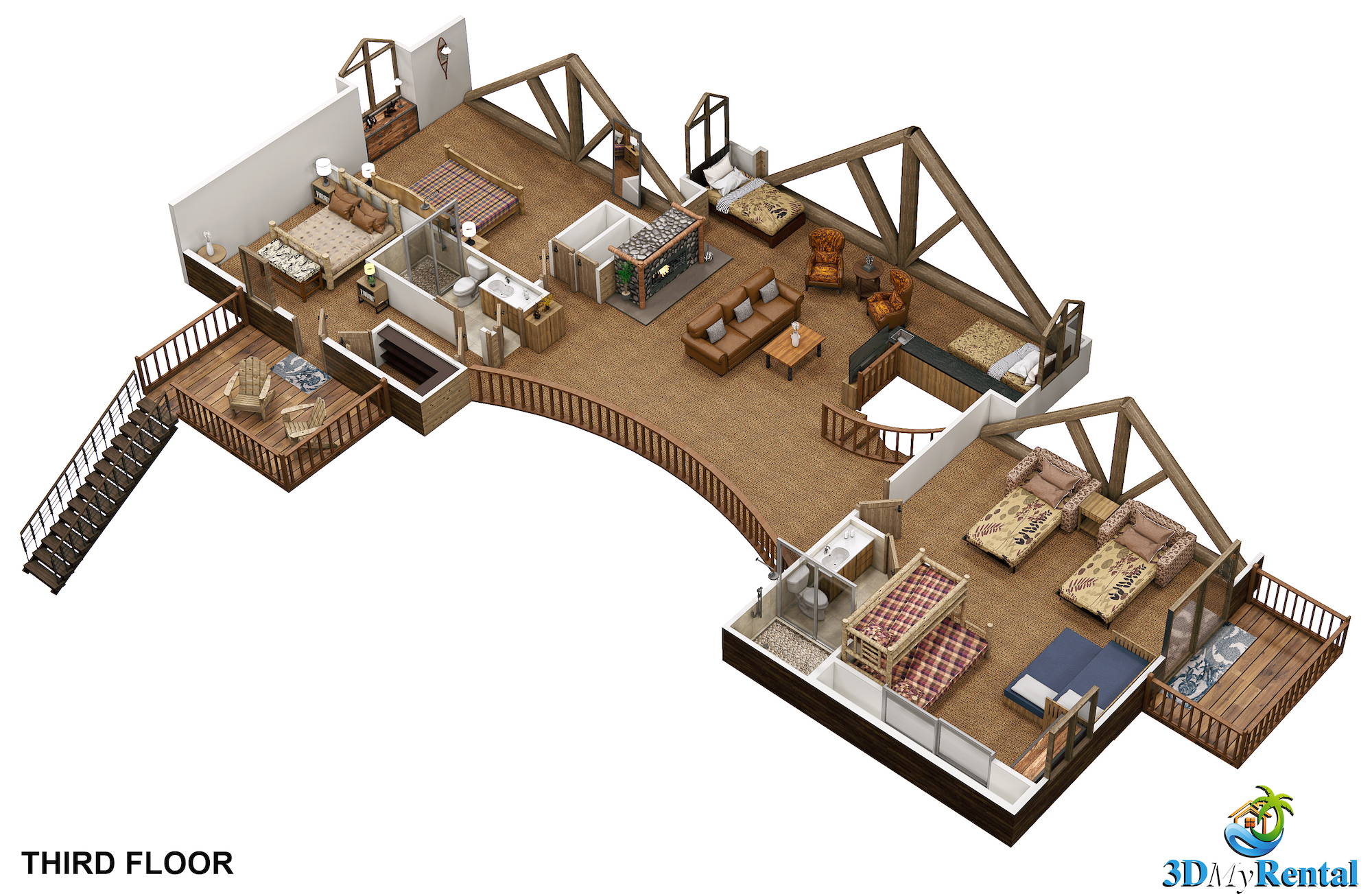 Make Your Property the Obvious Choice
With so many options available, it's critical to make a lasting impression. Our 3D renderings provide that "wow" factor, with 60% of travelers indicating that a 3D rendering would greatly influence their decision to book one property over another.
Communicate Your Commitment to Your Guests
A 3D rendering not only shows off your property but also communicates your pride and care for your guests' needs. In a world where trust is everything, more than half of travelers agree that a 3D rendering gives them the impression of an honest host, making it easier for you to secure those all-important instant bookings.
See Why Renters Love Our Renderings!
Oh my goodness, I cannot express enough how helpful these floor plans were. They definitely provided helpful insight and influenced my decision in booking this property because I was able to assign all the sleeping arrangements. I printed them and labeled who's sleeping where. I was also able to create an agenda for meals and activities with them. I think it's a great addition to the property's profile because other properties don't have that option so you would have to imagine it. With this, there's no surprises!
The stunning pictures of the property caught our eye, but it wasn't until we poured over the layout provided by the 3D renderings that we made our decision to book. Sometimes it can be difficult to determine a property's layout just from the photos. As we have 15 people in our party, it was important to figure out where everyone was sleeping, plus my grandmother with a walker has a difficult time navigating stairs, so when we could visualize the access from the garage to the 2nd floor bedroom, with only a couple steps, we were confident to book your property.
-Traveler, Wilhelmina McKinnon
Wilhelmina McKinnon / Traveler
I LOVE these! I probably book 25+ rentals a year. I am WAY more likely to book when I find these on a listing. I work with a lot of hosts and I always recommend sharing floor plans to my clients.
Christy Dawn Whipple /Traveler & Property Manager
This was the first time I've seen the 3D floor plan used on a listing and it was very helpful to have along with the pictures. In my opinion, it gave a great first impression that the effort was made for such detail.
Courtney kirschner /Traveler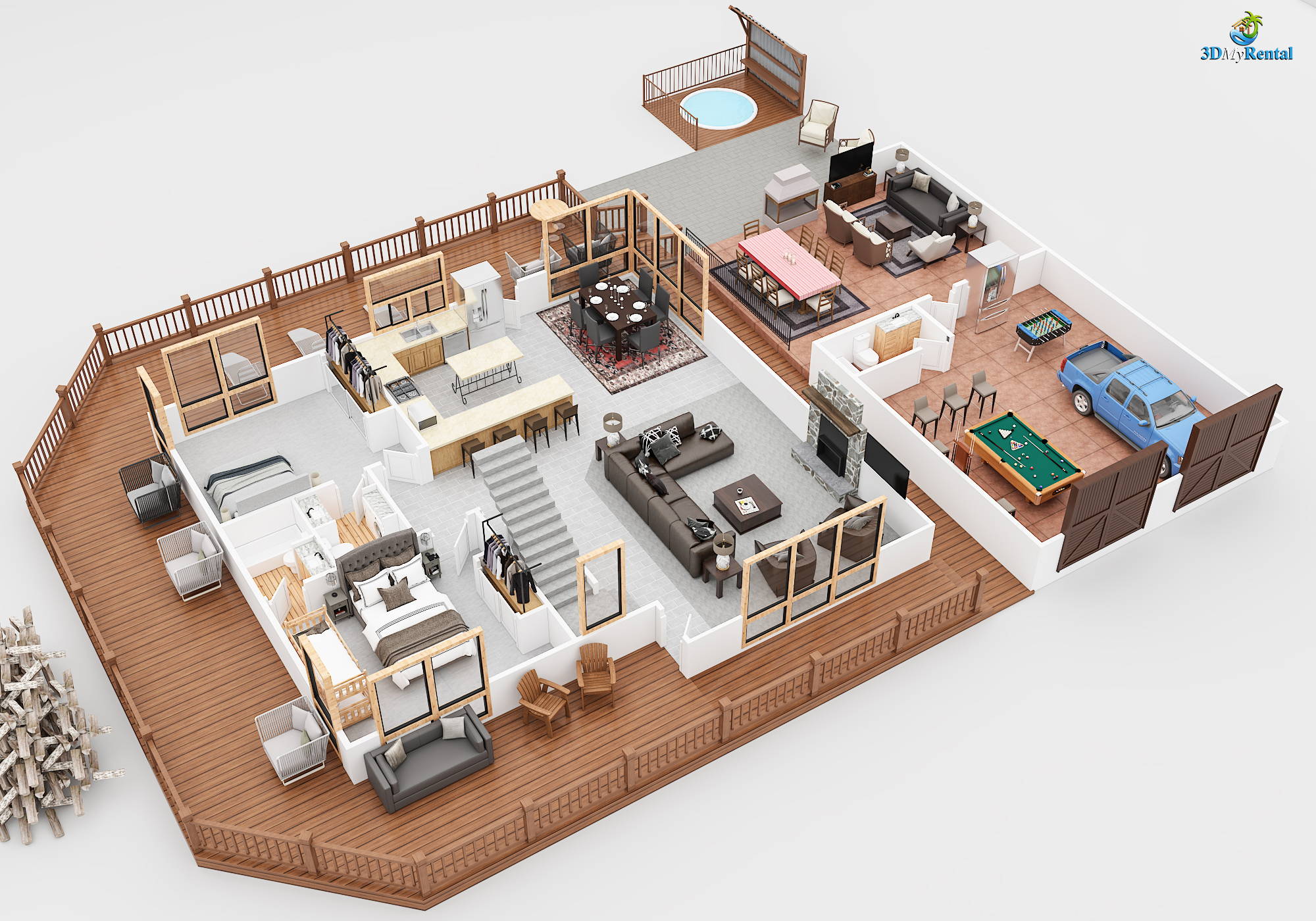 Make Your Property Shine with Our 3D Floor Plans
In today's crowded market, it's crucial to make your property stand out. The average traveler looks at 24 listings before making a decision, and with so many options available, it can be tough to leave a lasting impression.
Our top-down, 3D-rendered overview of your property will engage your prospective travelers, providing them with an unmatched level of detail and understanding of your floor plan. They'll effortlessly picture their stay, imagining who in their party will sleep where and how their stay will unfold.
Say Goodbye to Time-Consuming Email Exchanges
Travelers are on a mission to find their perfect accommodation, and they don't want to waste time waiting for property owners to reply to their inquiries. In fact, if they don't receive a prompt response, they'll often move on to another property, leaving you with a missed opportunity.
That's why a 3D floor plan is the key to securing more instant bookings. With a visually stunning and detailed representation of your property, travelers will have all the information they need at their fingertips. They'll be able to see every nook and cranny of your space, eliminating the need for back-and-forth exchanges and giving them the confidence to make a secure booking deposit on the spot.
Real Reviews from Real People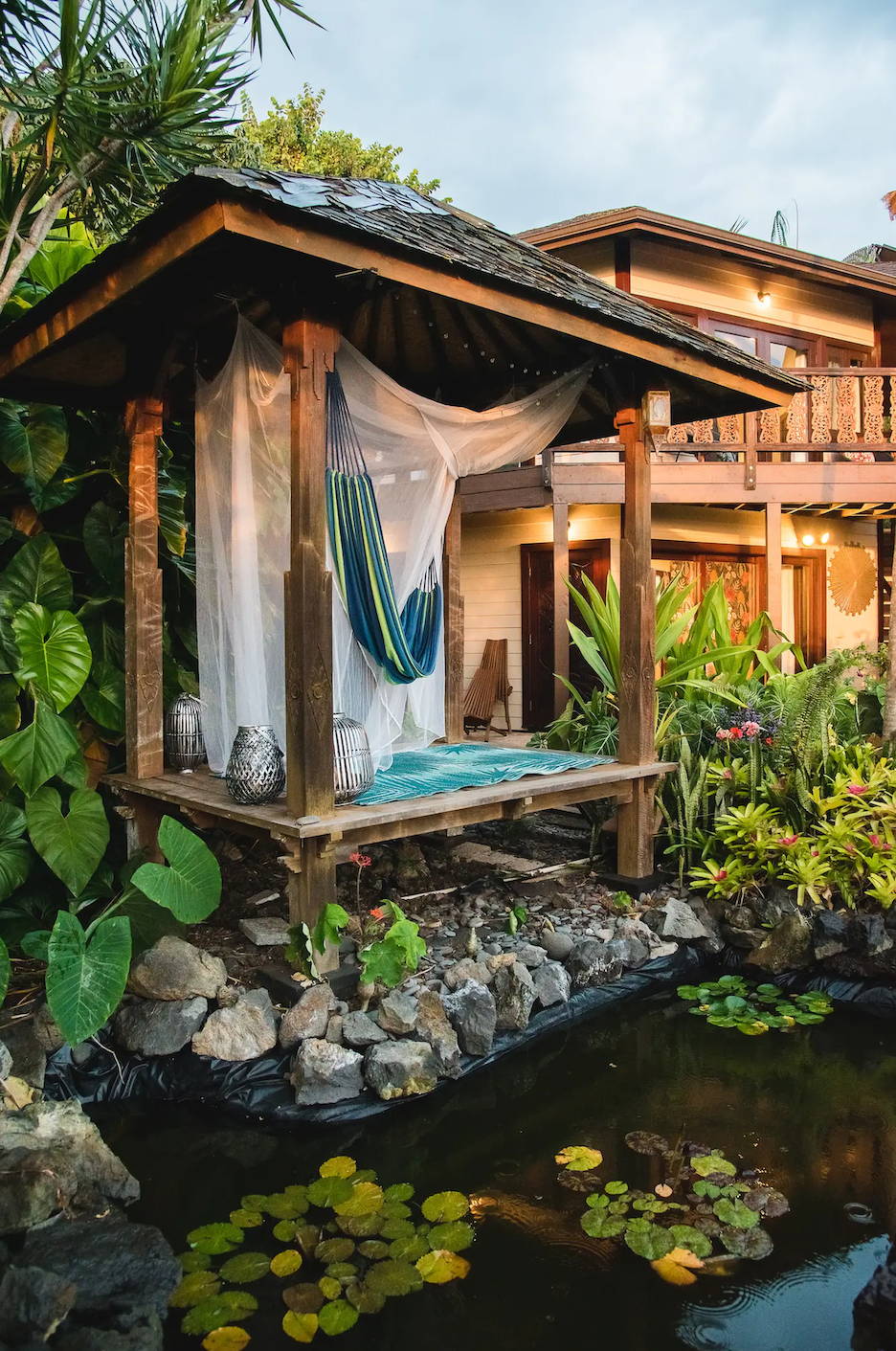 I have seen my bookings increase since I put them up so I was able to raise prices. This investment easily paid for itself in a few weeks! They've made a difference by having me stay booked through the slow season.
Chris of Stunning Serene Bali Retreat in Hawaii
What 150+ Our Dear Customers Are Saying
Raving Traveler Feedback!
"Often the skeptic, I questioned the ROI on this investment, but after I started getting raving traveler feedback about how enticing and helpful the renderings were, I was assured. With my rental having 2 floors and 4 bedrooms, I didn't realize just how confusing it could be to potential renters trying to figure out the flow and sleeping arrangements. I think the 3D renderings take the guesswork out and compel some potential renters, who may have otherwise left, to stay on my listing and ultimately book."
Marty /https://www.airbnb.com/rooms/50374139
"It is amazing to me the level of detail that you are able to put into these drawings, from capturing all the different colors, textures, and elements, and then bringing them all to life. It is truly a spectacular representation of my cabin and I feel it will provide me a competitive edge in my STR market while simultaneously benefiting our guests understanding of the space, prior to booking. Thank you too, for all your timely change requests and professionalism throughout the process."
Nick Bosley / https://www.vrbo.com/4505769ha
"3dMyRental is amazing! They work diligently to ensure your property is perfect. They are easy to work with and quick as well as efficient. I can not recommend them enough!! Thank you so much!"
Bek R. / https://https://www.airbnb.com/rooms/51326776www.vrbo.com/4505769ha